Vampire Beauty

Hsiang-An Tseng, The Hong Kong Polytechnic University
Betrayal, revenge and obsession are explored in this intriguing short story. How far would one go for the sake of beauty?
Click here to read Vampire Beauty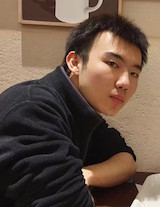 Hsiang-An (Andrew) is a second-year student at The Hong Kong Polytechnic University studying Electrical Engineering. Born in Taiwan, he grew up in the Mainland. He enjoys playing badminton as well as classical violin, and spends his time alone reading fantasy novels and comics in both English and Chinese. Brandon Sanderson's The Stormlight Archive series is among his favourites due to its fascinating mix of combat and magic. As a result of attending international schools, he has learned to appreciate different cultures. He learned Spanish for two years and finds the study of languages intriguing. He is looking forward to learning some Cantonese.
Author's Reflection
I wrote this short story for ELC1A01 Science Fiction as a Reflection on Humanity. A technique I learned in class is to select a popular technology that would last. My inspiration came while watching a TV show about addiction to plastic surgery. I felt shocked by how obsessed some people were with changing their faces; it was also horrifying to know that some were willing to take the risk while knowing the side-effects. While most of the cases shown dealt with operation failures, I wondered what the consequences might be if there was a pill that could achieve beauty without any operational risks.
One of the challenges that I encountered in writing this story was how to conclude it. I tried to make everything clear to the reader, thinking that this would create a satisfying ending. My editor Calum Page suggested to me that an open-ended conclusion might be more rewarding as it stimulates the reader's imagination.
This is my first time writing a short story, and it has been one of the most enjoyable assessments thus far. I also find science fiction a very intriguing genre and wish to continue digging into this area.
Photo Credits
Photo by Amir SeilSepour on Pexels