Insert Coin, Grab Joystick and Buckle up – Memories and Takeaways from Ready Player One, by Ernest Cline

Joshua Tan Yee Chong, The Hong Kong Polytechnic University
Enjoy this thoughtful reflection inspired by the iconic sci-fi novel Ready Player One.
Click here to read Insert Coin, Grab Joystick and Buckle up – Memories and Takeaways from Ready Player One, by Ernest Cline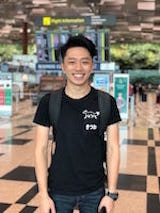 Hailing from Singapore, Joshua is currently in his final year at PolyU. Choosing to uproot his stable life and job in pursuit of further studies, he found himself pursuing hospitality at the School of Hotel and Tourism Management. At a young age he became fascinated by the skill and charisma of the suavest men at the bar, and decided he wanted to be just like them. Passionate about the complexity, intricacies and magic of alcoholic drinks, Joshua decided to pursue a career in bartending. In his free time, he can be found nerding out about the latest sci-fi story, wandering about with his film camera, or attempting to conquer the highest peaks of Hong Kong.
Author's Reflection
This piece of writing was initially penned for the Read@PolyU 2020/2021 writing contest. The requirement was a reflection on a science fiction story. Being an avid fan of classics such as Ender's Game, Star Wars and Blade Runner, this competition felt like a calling. Rather than just a writing a form of self-reflection, I wanted my writing to be seen by others and to showcase the endless possibilities of the sci-fi genre. My script was then chosen to be published in this very issue of Inscribe you are reading right now. Many people in my life disregard the genre entirely and it saddens me that they will never dabble in the infinite realms presented. But I knew if I wrote it, there is a sliver of a chance they might be inclined to give it a passing glance. The result is what you see today. I hope that my writing inspires you to pick up the next book you see with a galaxy, spaceship or alien printed on it.
Photo Credits
Photo by Matt & Chris Pua on Unsplash