Halted Oblivion

Wills Yick, The Hong Kong Polytechnic University
Step into a fractured world within a woman's dreams in this enthralling screenplay.
Click here to read Halted Oblivion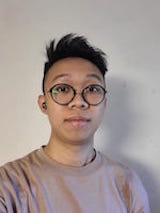 Wills is a Western pop culture enthusiast and enjoys its wide range of art from novels to hip hop music. Since his early years, he has always been drawn to hyper-interactive narrative experiences such as video games. Passionate about growing his language skills, Wills is no longer satisfied with being a spectator. While transitioning to a writer's perspective, he draws inspiration from stories he has immersed himself in, and experiments with different narrative elements. With an associate degree in English literature, he joined the English Studies for the Professions program at PolyU to hone his writing skills in order to create more compelling narratives.
Author's Reflection
Halted Oblivion is a combination of my many past experiences put into one narrative. It started as a nightmare of mine, which led me to wander and create the initial premise of the screenplay. I have projected myself on the protagonist of the story to some extent, as a way to channel an authentic character with hopes that the readers can resonate with her. There is an on-going fixation on stories of grand adventures and heroic characters, which is fine, but what about the more grounded type of narratives? Especially ones with the focus on self and legitimate fear? But of course, it would be too boring to put myself as the protagonist without a plethora of added elements. What makes a cake great? Layers. "Everything is connected" is something that I learned and will keep with me always.
So, I tapped into multiple aspects – my experience, the society, and narratives which I admire greatly – to add layers to the story. One element that was added is LGBTQ+, which I think is vital to discuss in the current society. I celebrate this thriving community even when I'm not a member of it, as the world becomes a more interesting place every time a person comes out. You truly can and should be whoever you want to be in this day and age; dig deep and listen to your hearts. As for my screenplay writing experience, it was fresh and exciting, although not without some challenges, as I transitioned from more traditional styles of writing to screenplay writing. It gave me a deeper appreciation of screenwriters, especially for the shows that I love. Finally, I want to thank Jay Bidal for helping this screenplay to flourish, friends who shared their advice, and Inscribe for publishing this narrative of mine.
Photo Credits
Photo by Stefano Pollio on Unsplash.