Climate Change: Investigating the Hurdles to Action

Photo from Unsplash
Climate Change: Investigating the Hurdles to Action
Gautham Gopinath, The Hong Kong Polytechnic University
---
Abstract
Why is it difficult for countries to act together to tackle climate change? This essay explores that troubling question, and examines the issue of responsibility from a moral angle.
---
Click here to read Climate Change: Investigating the Hurdles to Action
PROFILE PICTURE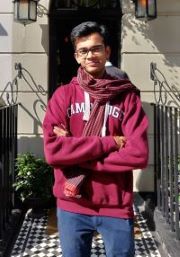 BIO
Gautham is a second-year student at The Hong Kong Polytechnic University studying Engineering Physics. Indian by ethnicity, he spent his life growing up in Botswana. Over the past few years, he has become increasingly concerned about matters pertaining to sustainability, in particular, climate change.
He incorporates sustainable practices into his daily routine, and you might find him stepping out of a supermarket struggling to carry a bunch of groceries in his bare arms because he forgot to bring his own shopping bag. He is passionate about physics, and eventually would like to pursue a research career in the subject. In his free time, he likes to hang out with his friends, play the guitar, and, in true scientific fashion, ponder the big (and small) questions belying the universe.
REFLECTION
The topic of climate change was a no-brainer for my term paper in GEC1B12: International Relations and Global Issues. It is an international emergency which still has not received sufficient attention. Climate change is an extremely complex issue, involving several actors, lobbies and interest groups. This paper is my attempt at unravelling why climate change has not yet received sufficient international attention, as well as analyzing the debate between developed and developing countries on the matter.
For the second part of the paper, regarding the debate between developed and developing countries, I realized that answering the question of who is 'right' or 'wrong' in this debate required me to appeal to moral frameworks such as egalitarianism and prioritarianism. This is an example of where philosophy can help shape policy choices in real life. It also reflects the interdisciplinary nature of a problem like climate change. This shows that, in order to solve climate change, a greater emphasis has to be placed on effective communication between the various groups involved, including politicians, scientists, philosophers, and business people.