The Vending Machine

Tracy Chow, The Hong Kong Polytechnic University
A humble grocery story in Japan, 1957, is the setting for this emotional screenplay. A new machine will set in motion life-altering events.
Click here to read The Vending Machine.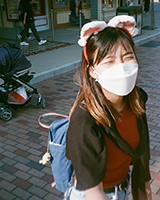 Tracy is entering her second year at The Hong Kong Polytechnic University, majoring in English and Applied Linguistics. Born and raised in Hong Kong, she likes to wander around the city and imagine herself as the fictional character in the book she has just read. An avid guitar player, she also enjoys watching cartoons in her free time to spark creativity. 
Author's Reflection
The public perception of a piece of art is often different from the artist's intentions. So, what is The Vending Machine?
Writing and editing this screenplay represents one of my biggest life challenges. How to bring these characters to life and give them three-dimensional depth within a 20-page limit? I struggled with establishing a character arc through confined lines of dialogue. But as the old saying goes, limitation breeds innovation. So, I put myself in the characters' shoes. The drama queen in me emerged and played out my scenes in real life, allowing me to experience what the characters were going through. It was a difficult journey for sure, but a fun and exciting one.
Let's consider the vending machine: money is inserted, a product is chosen, and it responds and dispenses. I see myself in that vending machine. I respond when someone approaches me, they check up on me with concern, and I finally open up and let myself out. The symbolism doesn't end there. Even the two main characters, Yuto and his father, Mr. Mori, are both different parts of me expressed in different ways.    
What was once a passion project of telling a story about others turned into a reflection and conversation with myself. In the process of questioning myself over and over, a subtle conversation emerged. I gained a deeper understanding and I told a story about myself. And I find that beautiful.
Dear reader, I hope you enjoy this screenplay.
Photo by Kotaro Kibe on Unsplash