The Meek

Hui Nga Chit Cheryl, The Hong Kong Polytechnic University
A mission trip to Cambodia is the backdrop for a teen's transformation in this captivating screenplay.
Click here to read The Meek.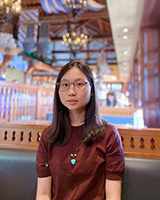 Cheryl is a PolyU sophomore who was born and raised in Hong Kong. When she's not focusing on numbers in her Accounting studies, she enjoys mystery and fantasy novels. Inspired by her love of Harry Potter, she hopes to one day create her own fantasy world. She is secretly a daydreamer, and will certainly indulge in this habit during lectures, theoretical discussions, and on the bus with her headphones on. Her favourite pastime is watching Marvel films with her parents and blasting music through the speakers when nobody is home.
Author's Reflection
I have always been a bookworm, and as I got older, I wanted to write my own story. So, I enrolled in ELC1C03 Creative Writing in English to learn more about creating a fictitious world. Being my usual oblivious self, I mistook it for a course on writing novels. To my surprise, it was about screenplays. Curiosity drove me to continue with the course and learn more. It didn't take long for me to fall in love with screenwriting, and I was thrilled that developing an original screenplay was one of the course requirements. Finally, I had the opportunity to properly write a story on my own and obtain professional feedback. 
The main character is based on someone I know who was timid as a child but grew up to be a confident adult. At first, I just wanted to write a story that described the transition, with a sprinkle of action scenes. But as the story progressed and more details were added, I realized there was a lot more I wanted to say. Combining the concepts and forming a coherent and meaningful story and message was pretty challenging, to say the least.
The Meek is my first attempt at writing a screenplay. I would like to express my gratitude to Ms Dureshahwar Lughmani for her patient teaching, as well as Mr Jay Bidal for his ongoing assistance and input throughout the course and editing process. 
Photo by Nighthawk Shoots on Unsplash