A selection of poems

A selection of poems
Chatty Indrawan, The Hong Kong Polytechnic University
---
Abstract
An assortment of imaginative poems have been selected with insightful reflections from the author.
---
Click here to read a selection of poems
PROFILE PICTURE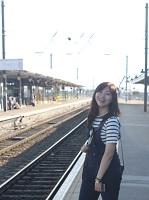 BIO
Chatty Indrawan is currently in her final year of her BBA (Hons) in Accounting and Finance at PolyU. She comes from Indonesia. When Chatty is not writing insightful poetry, she enjoys a range of activities including travelling, volunteering, sketching and watching documentaries. In the future, she would like to share her ideas, to be a storyteller, and to inspire others. Chatty hopes to better understand the world by traveling to places like Pompeii, Africa, and the Arctic. It is her dream to share her ideas through a TED talk and to build a school in Indonesia.
REFLECTION
I remember reading a book about Elon Musk in which he expressed his thoughts about learning and logic. I learned that wishful thinking is inherent in the human brain and that we can only understand "purpose" if we can explain the "why". While travelling to different places that year, I reflected on these and decided to write free-flow poems about my thoughts on dystopia and also my passion for flying. Writing poetry is my way of communicating the truth and since they are much shorter than narratives, I enjoy the challenge of searching for descriptive vocabulary that can vividly paint my thoughts. After keeping these poems for several months, I shared them with friends and received positive feedback, so I was encouraged to reach out to more people about my thoughts through Inscribe.
The editing experience with Inscribe has been wonderful as I have had the opportunity to meet people who are passionate about language. As a writer, I have learned to be a conscious dreamer and an engineer of boundless ideas while expressing inner voice. This script is meant for the dreamers who are curious about ideas. It encapsulates thoughts that challenge the wishful thinking of the majority and ideas of self-actualization.